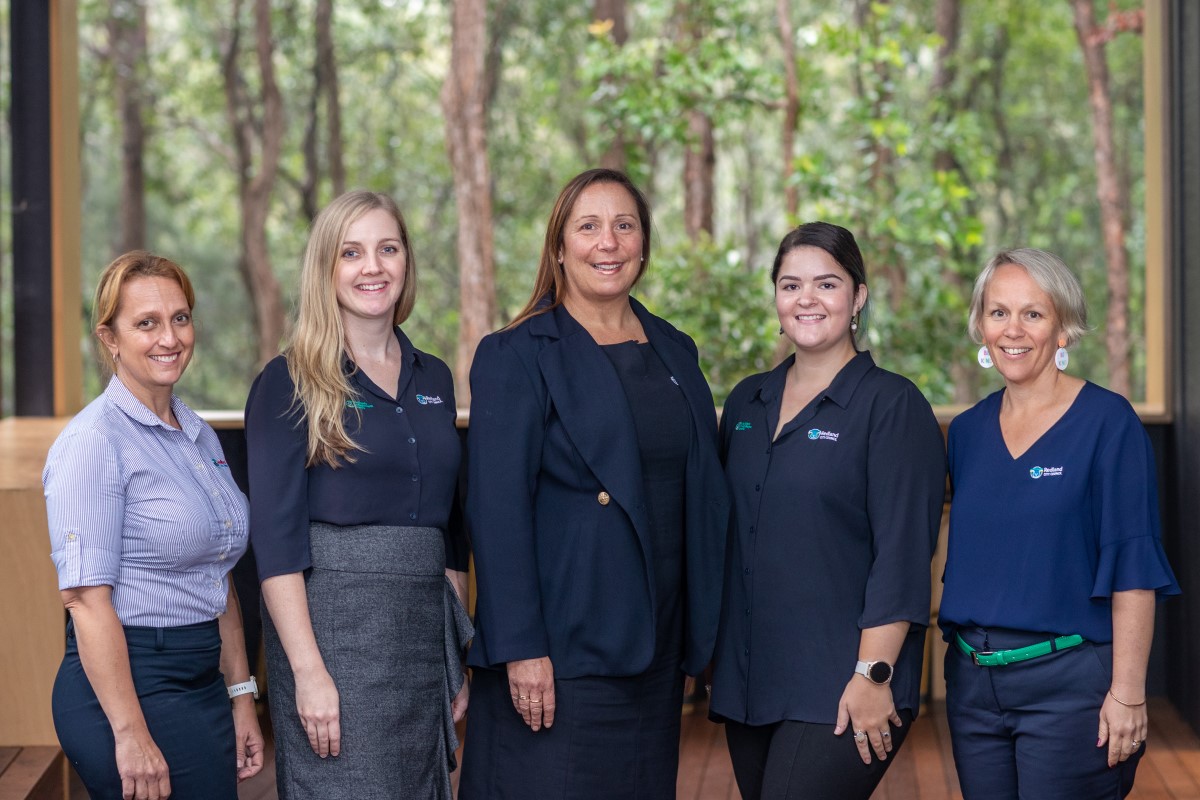 About IndigiScapes
IndigiScapes is Redland City Council's naturally wonderful environment centre.

Situated on 14.5 hectares of serene natural bushland on Redlands Coast, IndigiScapes offers native botanical gardens, a native nursery, bush trails, a nature playground and café specialising in local cuisine with a bush tucker twist.
We can help you:
Relax in the beautiful grounds of IndigiScapes and discover other natural places to enjoy on Redlands Coast.
Find the right plants to enhance the natural environment on your property.
Get involved in community groups that build lifelong friendships and make a difference to the environment.
Make small and simple lifestyle changes that will generate a positive difference to a healthy environment.
Whether you are in need of a relaxing day out, you're looking for tips to create a beautiful native garden or you're passionate about living more sustainably, we're here to help you get outside more, improve the natural environment and live a sustainable life.
Opening times
The centre opening times:
8am to 4pm, 7 days
Closed on public holidays
IndigiCafe opening times:
8am to 4pm, 7 days
Cafe bookings recommended, please phone (07) 3824 8611
Closed on public holidays
Native Nursery opening times:
10am to 3pm, Mon - Fri
9am to 12 noon, first Saturday of every month (except January)
Closed on public holidays
Visit Queensland Health for access to informed and timely COVID-19 resources to help you take health measures appropriate to your individual needs.
Dogs at IndigiScapes
We love meeting your furry friends at IndigiScapes!
However, to maintain the integrity of our Native Botanic Gardens, we kindly request that dogs do not accompany their owners into the Botanic Gardens at any time, including our Eco Market events. We apologise for any inconvenience this may cause.
You are welcome to enjoy a leisurely walk on our designated walking tracks, with your dog on a lead.
Contact
IndigiScapes Phone: (07) 3824 8611
Email: indigiscapes@redland.qld.gov.au
Address: 17 Runnymede Road, Capalaba, QLD 4157
Follow us on Facebook and Instagram.
Redlands 24hr Wildlife Rescue Service Phone: (07) 3833 4031
Facilities at the centre include:
Two BBQ facilities (near the IndigiScapes centre and near the playground)
Download the IndigiScapes Map [PDF 2MB].
Parking
Parking is available onsite at the IndigiScapes Centre and Native Nursery. We provide disabled parking spaces and a curb side drop-off point as you drive past the front of the centre.
Public Transport
The IndigiScapes Centre is a short walk from the bus stop on Redland Bay Road, Capalaba (near the corner of Lyndon and Redland Bay Roads)
Disability Access
The centre, cafe, gardens and two of three bushwalks are wheelchair friendly. Disable restroom facilities can be accessed from the foyer and near the playgrounds.
Location