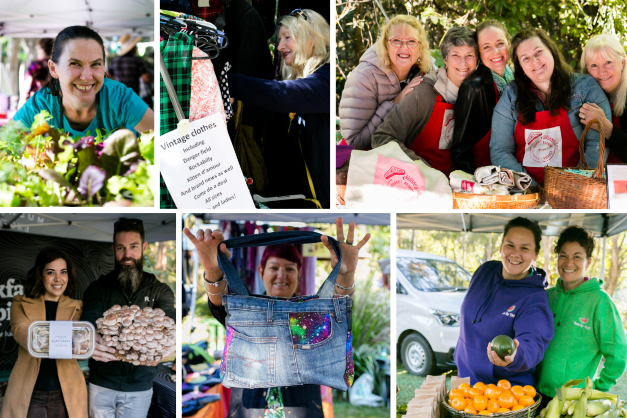 The next Eco Market is Saturday 2 April from 8am to 12pm
Enjoy open-air shopping with local small businesses offering a wide range of eco-friendly products, hand crafted goodies, sustainable giftwares and more.
You can also grab a coffee or a bite to eat at the Indigi Café or try the fantastic fare from the food vans. Spend the rest of the morning under the trees listening to beautiful music from local artists or relaxing in the fresh air.
There is so much to see and do at our Eco Markets. Don't forget the nursery will be open during the market from 9am to midday for all your native plant needs.
Want to be a stall holder? Please contact us.
What the community enjoyed at our December Eco Market
Start the morning with a delicious breakfast and coffee at the IndigiCafe, while enjoying a Sustainable Fashion Parade and Op Shop styling presentation by Hannah Klose from NeverEverPayRetail.
Inspired by Hannah, wander down to the markets and visit the Suitcase Rummage and Rack Sale where you might find that perfect outfit for Christmas.
Head down to the Adventure Playground - Sparky Doh Dah will get everyone active.
Don't miss our eco Christmas decoration demonstration on the main stage.
Be inspired by Monique Mach and her unique fashion pieces designed using paper bags while in hotel quarantine.
Get creative with Author and Illustrator Megan Forward and her Scribbly gum eco craft.
Native flora and fauna face painting with Fairy Raine.
Discover the art of Japanese gift wrapping – Furoshiki – with a live demonstration by Shae Miller of Butterfly & Bloom Wellness.
Download the complete program for the morning here.
Who will you find at the market?
Fresh Produce and Food Stalls
Meet Mikkeline the passionate foodie behind this small artisanal business specialising in wholesome and delicious foods that use ancient techniques such as fermentation. All things Aroha products are made in small batches by hand by sourcing local, spray free and organic produce. They conduct their business in an ethical, socially aware, culturally empowering and environmentally responsible manner and believe that 'positive change starts with us'.

At the Eco Market Mikkeline with have her signature kimchi and three types of sauerkraut. Also available on the day, a range of bush foods such as Lemon Myrtle powder from a local farm that Mikkeline harvests and process herself, wild harvested Tasmanian Mountain Pepperberries and delicious bush food bliss balls. Everything is vegan friendly and gluten free.

Visit talented duo Maxene and Gary Morganson from Fable Ladle. Located on the picturesque Coochiemudlo Island, Maxene and Gary create healthy and wholesome foods – from quality bread including gluten free, seed and nut breads, to a range of bush tucker inspired jams, pickles and chutneys.

Dave and Shahn from Ruby Creek Mushrooms are your local mushroom farmers on the Redlands Coast. They bring gourmet goodness to all with their range of 'Mushroom Exotica and Medicinals'.

Proudly Aboriginal owned and led, Clinton and Lozen Schultz of Sobah Beverages have created fresh, vibrant, non-alcoholic craft beer infused with Australian bush tucker flavours. It is their aim to raise cultural awareness and promote Aboriginal arts, language and history through the Sobah range. They recognise First Nations Peoples of Australia, language groups, origins and the Dreaming. They ethically source their ingredients and knowledge and show respect to the environment by using sustainable package.

Meet Taryn, whose passion drives her to start each day before first light, stocking her 'Taste by TNT' van, with the freshest hand-picked fruit, vegetables, herbs, eggs, jams and organic pantry items from local farms and the Brisbane market home delivered to you.
Artisan Market Stalls
Beautiful and quirky hand painted rocks individually created by the talented Alan Spears who found a unique way to recycle rubble as original works of art. Alan captures a variety of flora, fauna, local scenery and more.

At Bin Chicken Books you'll find quality reads that you may not find at your local op shop. Their mission is to save as many books as they can from landfill and make reading excellent literature accessible for everyone.

Meet Dani from Bow Keep pours her creativity into handcrafted wood hair bows, hair clips earrings, propagation stations, soap plates, trivets and keyrings all made from rescued and reclaimed timbers sourced locally around Brisbane.

Butterly & Bloom Wellness creates small batch herbal and natural skin care including perfumes, herbal bath soaks, beauty and lip balm, face masks and body oil. This nurturing range is created using no fuss, natural products.

Catherine will have beautifully presented packs of crystals and pure essential oils ideal for gifts. At the market she is happy to share with her knowledge about how you can use crystals, essential oils, yoga and reiki in your everyday life.

Lovingly recycled timber homewares, gifts and Christmas decorations handmade just for you.

Eco Bohemai is home to arts and crafts, clothing, jewellery and fashion accessories handmade from upcycled fabrics on Redlands Coast.

From a love of plants and nature Firefly Gully Creations have produced beautiful statement pieces using low maintenance, living plants. These decorative settings will certainly brighten up your world with each unique piece handcrafted here on Redlands Coast.

Pop in and visit Tanya from Frog In A Teacup. She has a passion for simple, sustainable living and can help you reduce your single use plastic with her handmade eco-friendly beeswax wraps.

You'll find a delightful range of fair trade products from baskets, bowls, tote bags, stools, timber boxes, kitchenware, and bedspreads. This delightful range are made from recycled pallet straps, timber, fabric, or natural fibres such as banana, hemp, elephant grass.

Flowers, ferns, succulents, herbs and house plants in unique upcycled, antique, handmade and some new containers. With every plant comes care instructions and a bottle of their worm farm juice free in recycled bottles which can be returned for more.

Locally handmade face masks and bags.

Your children will fall in love with these local, handmade dolls clothes and matching children's dresses. Just for Dolly also have a range of upcycled cots with handmade bedding and dolls bean bags.

Enter Megan's magically storybook world with her range of picture books for children, handcrafted cards and craft activities for the kids.

All natural insect repelling lotion, candles, oil and rescue balm in biodegradable packaging for surprise bites. Formulated by a local family right here on Redlands Coast it's been tried and tested for midges, mozzies and more. Naturally Outdoors are committed to planet friendly packaging so all their tubes contain an organic catalyst which allows them to biodegrade in landfill within 10 years without creating microplastics.

Come and wonder at Pam's creations. One of a kind handmade jewellery using natural gemstones, Swarovski crystals, lampwork beads, oyster shell and freshwater pearls all created using non allergenic sterling silver and stainless steel fittings.

Papercutz creator Wendy loves making unique, handmade, vegan products made from washable paper. These long lasting eco-friendly products from tote bags to wallets, laptop bags are more are stylish, versatilie and washable.

Local creative Samantha from Petunia Blossom handcrafts bowls, coasters and tote bags from upcycled souvenir tea towels and 100% Australian made cotton rope.

Meet Sue and Nikki, a mother daughter team who offer everything eco for the kitchen, bathroom and laundry. Plastic Free Alternatives products are founded on the idea that everything we use daily – things like toothbrushes, lunch boxes and food covers - should do no harm to the planet or our bodies. These must be made from renewable sources and be reusable with a long life or be compostable so that we are not adding to the pollution of our planet.

Enter the 'Aladdin's cave' of ethical and sustainable artisan designed jewellery, homewares and gifts sourced by local creator Gisela. You'll find gift wrap made with elephant dung, banana waste and recycled office wasted, reclaimed mango wood block stamps, vintage teacup trio hampers, organic teas, fair trade chocolate and more.

Local artist Sharma Deanne creates colourful hand painted pots, reusable tote bags and gift bags from local and natural materials. Sharma's range celebrates native flora and fauna with her bold and bright designs.

Meet Kylie and Matt from Smyle Designs. Their mission is to help you keep your outfits cute and the planet happy! They make colourful, eco-friendly jewellery using their own artwork and recycled plastics.

If you are the proud owner of a much loved pooch you will adore Sonjas doggie hats, bandanas and coats. This talented local artisian will also have Indigenous and various printed bunting, upcycled record bowls, hand knitted bed socks and wheelie walker caddie bags.

Soothe those aches and pains away with Spotpack's beautiful Lupin filled heat packs. Christina from Spotpack also creates beautiful handmade beeswax food wraps.

Craft focussed on nature. Botanic art, watercolour cards, fairy gardens, handmade soap presented in recycled art paper and felted soap.

Local potter Suzanne is inspired by the native bushland. Every piece is individually made and even those that come in large families such as the 'Vespires' or the little koalas each have their own unique personality.

Angela from Sweet Bees 'n' Things is passionate about our environment, living sustainably and encouraging others to introduce ecofriendly habits at home. Angela makes beeswax wraps, sleeves and snack pouches, beehive candles, tea lights and lip balms from her home base in Mt Cotton.

Clay medium and used stamps given new life as fridge magnets, bottle stoppers, tea bag rests, pin badges and more.

Untamed Gypsy Apothecary - where ceremony intertwines with healing to honour your body, soul and spirit. Visit Untamed Gypsy - Apothecary and Elisha will help find the right herbal smoke cleansing wands infused with crystal energy.
Pop Up Food Vans
What better way to start the day then a coffee from Lesa at Anaiis Cafe.

OMG Donuts make really delicious donuts, dusted in handcrafted bespoke sugars made from fresh fruit and vegetables. Vegan and free from wheat, yeast, gluten, eggs, dairy, nuts, sulphites and preservatives. Be quick - they sell out at every Eco Market!

Loved by young and old – the Potato Twister. Potato chips on a stick!

Schmoffee is a family owned and operated vintage styled mobile coffee trailer with locally roasted Chiasso coffee made and served by Jess and Cohen.

Thank you Emma for all the deliciousness that you create. With French origins and farmers market beginnings, The Little French Bakery offers a large choice of pastries and bread made with French flour and butter. Baked fresh for you to enjoy or ready to take home and bake.
Environment and Community Groups
Beautiful handmade crafts including hand towels, household items and children's clothes. All proceeds to Cancer Council Queensland

Bayside Beekeepers is a beekeeping club for hobbyists and professionals on Redlands Coast. New members are always welcome.Tthere is a small cost to join and the club meets once per month. Find out more, come and chat to the team of volunteers.

The amazing team of volunteers from Boomerang Bags Redland Cityare talented makers with a passion for sustainable creation. They have a range of products created from unwanted fabirc and textiles. Champions of the circular economy their work keeps textiles out of landfill. You'll find everything from shopping bags to eco cleaning cloths and beautifully covered books, eco-on-the-go cutlery sets and more.

Your local community garden bring potted plants to purchase, herbs and vegetable seedlings, plus sustainable and fun gardening ideas.

Sustainable Scouting. Sustainable Communities is what your local Capalaba Scout Group is all about. Come and say hello, find out more about getting involved and help the group in their fundraising efforts.

The Wildlife Preservation Society of Queensland is a not-for-profit organisation which aims to engage communities to deliver conservation outcomes. Come and visit the passionate volunteers from ther local Bayside branch to see how you can get involved.
Council Teams
This month engage with our Wildlife Officers and learn more about Redlands Coast wildlife and habitat. They will have example nesting boxes, insect hotels and more. Learn more about the great work of our volunteers with the Redlands After Hours Wildlife Service.

The Disaster Management Team in partnership with Queensland Fire and Emergency Services are holding a community hub a the December Eco Market so you can learn more about being prepared this bushfre season.
Eco Markets in 2022
Mark your diary so you never miss an EcoMarket:
Saturday 2 April 2022
Saturday 4 June 2022 in conjunction with the Environment and Community Fair
Saturday 6 August 2022
Saturday 3 December 2022
Would you like to become a stallholder?
To apply to be a stallholder, please complete and return the Market Stallholder Application
Please note: Stallholder fees apply and Public Liability Certificate of Currency is essential.
If you are an artists or performers and would like to be part of this market or other events offered here at Redlands IndigiScapes Centre please email our Event Coordinator