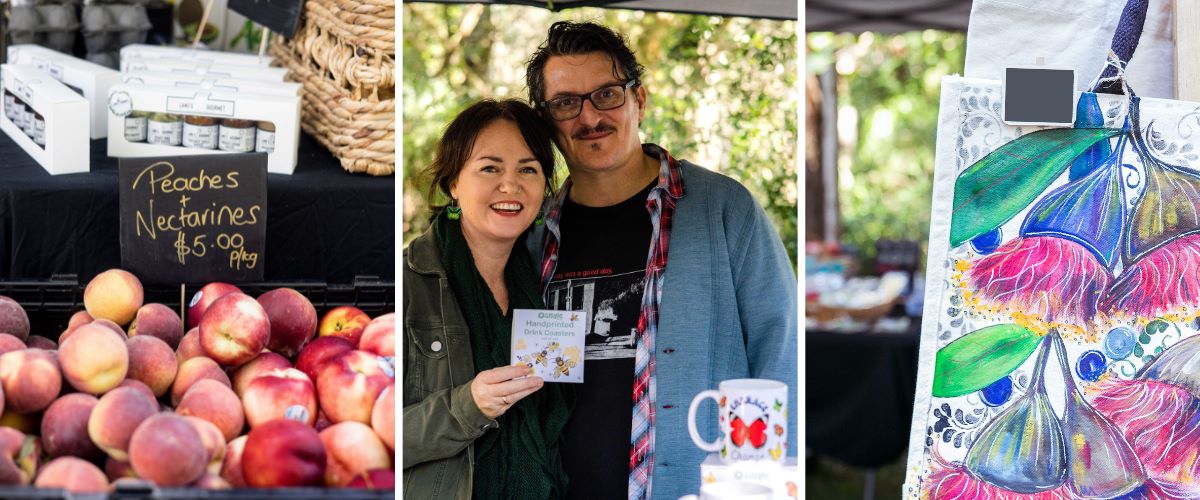 Save the date for Redland City Council's next Eco Market
Saturday 2 December 2023, from 8:00am to 12:00pm
Enjoy open-air eco friendly markets in the beautiful native botanic garden surrounds at IndigiScapes!
Spend the morning wandering through the Botanic Gardens market lane and explore the range of unique stalls, sustainable products and fresh produce available from our local and creative market community.
Grab a coffee, or a bite to eat, at the IndigiCafe; or try the fantastic fare from the food vans, while children are engaged enjoy face painting with Fairy Raine, Messy Play with Gumtreekids and outdoor play with Sparky Do Dah.
Author of Little Explorers Guide to Queensland National Parks Chloe Butterfield, will be here to feature her new book.
Weave your own festive creations and decorations using natural fibres at our weaving circle with Danny Horsford from Currawong Fibre Art.
Visit the popular suitcase rummage and rack sale for a preloved bargain.
Relax in the shade of trees, listening to Ranger Stacey introduce beautiful live and local music on the outdoor stage. December's line up includes local favourites, Liam Waldock, David Hethorn and Redland City Ukes. We are also very excited to welcome Rochelle Pitt who is of Quandamooka, Kabikabi, Meriam Le descent.
There is so much to see and do at our Eco Markets. Don't forget the Native Nursery will be open during the market from 8:00am to midday for all your native plant needs.
Dogs at IndigiScapes Eco Market
We love meeting your furry friends at IndigiScapes. However, we kindly request that dogs do not accompany their owners into the Botanic Gardens at any time, including our Eco Market events.
You are welcome to enjoy a leisurely walk on our designated walking tracks, with your dog on a lead.
Parking
Event parking is accessible via the Native Nursery entry at 15 Runnymede Road, or Lyndon Road and Korowal Street where you can take a short stroll through the bush track to the native botanic gardens.
Who will you find at the markets?
Environment and Community Organisations | Eco Exhibitors
Visit members of Bayside Beekeepers who have lots of experience with keeping bees and are eager to help you get started and solve any problems you may be having.

The amazing team of volunteers from Boomerang Bags Redland City are talented makers with a passion for sustainable creation. They have a range of products created from unwanted fabric and textiles. Champions of the circular economy their work keeps textiles out of landfill. You will find everything from shopping bags to eco cleaning cloths and beautifully covered books, eco-on-the-go cutlery sets and more.

Oakland Street Community Gardens is your local community garden. They bring potted plants to purchase, herbs and vegetable seedlings, plus sustainable and fun gardening ideas.

OzHarvest is a registered charity and one of Australia's leading food rescue organisations. Saving surplus food from ending up in landfill and delivering it to charities that help feed people in need. Passionate about advocating for sustainable food systems and helping people reduce their household food waste. Show your support by purchasing merchandise with an environmental focus, including keep cups, reusable lunch boxes, beeswax wraps and recipes to use up commonly wasted food.

Since its formation in 1987, Wildlife Queensland Bayside Branch has been working to protect the vulnerable flora and fauna of our region and educate community members about threatened species and conservation needs.
Fresh Artisan Produce
Visit talented duo Maxene and Gary Morganson from Fable Ladle. Maxene and Gary's commitment to maintaining sustainable practices and products; producing all Fable Ladle products on Coochiemudlo Island with materials that are homegrown or organically produced where possible. Sample their extensive range of jams and chutneys, vegan cheeses and fudges. New to the table will be Moroccan preserved lemons, Yuzu sauce and Yuzu Ponzu sauce. Both are traditional-like Japanese sauces using the exotic; citrus Yuzu. Plus quality bread including gluten free, seed and nut breads and a range of bush tucker inspired jams, pickles and chutneys.

Gingerbread biscuits handmade and decorated with pretty designs. Australian sourced ingredients and beautifully gift boxed in a sustainable way.

Spice up your life with 46 varieties of locally grown Chilli plants grown from true seed under a pest and disease free, food safe program. . From ornamentals through to superhots, with some rare varieties available. Carolina Reaper is one of the most popular.

Unique handmade bottled preserves made from Australian ingredients including; chilli sauces, pasta sauces, chutneys, relishes, salsas, pickles, jams, marmalades and dessert sauces with a focus on local seasonal and native ingredients. Made without any added thickeners, artificial colours, flavours or preservatives and packaged using reusuable jars, plastic free, biodegradable and compostable labels.

Natural Neddy have a range of coconut butters. Coconut Peanut Butter, Choc Coconut Peanut Butter, Salted Choc Coconut Peanut Butter Crunchy Topper and Chai Cashew Coconut Butter.

Incredibly delicious sweet treat bliss ball mixes (vegan, gluten-free, preservative free) and dehydrated fruit to dress up your cocktails, add colour to grazing boards, as well as making a beautiful table centrepiece inside glassware.

A family owned artisan craft distillery right here on Redlands Coast! Redlands Coast Distillery is the first legal distiller in Redland City and offer a signature dry gin that is full flavoured and refreshing, centered around the bold herbal and piney flavours of juniper, citrus notes from cirander seed and sweet orange peel all enchanced by the sweet flavours of organic liquorice roots

Dave and Shahn from Ruby Creek Mushrooms are your local mushroom farmers on the Redlands Coast. They bring gourmet goodness to all with their range of 'Mushroom Exotica and Medicinals'.
Artisan market stalls
Handmade cork leather bags, totes, backpacks, purses, wallets and accessories. Artisan Cork products are made from sustainable cork sourced from the forests of Portugal. The bark is harvested from the tree, which regenerates it's bark within 10 years and can be harvested again

3 Bamboo Panda's is a family owned business, located on Tamborine Mountain. The vision of Three Bamboo Panda's is to bring Eco Friendly, sustainable prooducts to their lo

Botanical skin care range that is formulated with 100% natural and mostly organic ingredients. Bella Blue Skin is locally made in Brisbane

Handmade hats and bags, headbands, dog bandana/bows and headwraps.

Bugs and Beads create unique insect and fungi inspired 'pets' and products, including greeting cards made of recycled paper, insect journals, colouring books, tea towels, jewellery and more, packaged sustainably in decorative burlap bags or cardboard boxes.

Creative recycled denim items including clothing, handbags, purses, aprons, wall junk organiser out of recycled denim, jewellry made from denim off cuts. Heat packs and lavender pillows for drawers as well as aches and pains.

Beautiful original paintings and jewellery from local creative Southern Moreton Bay Island artists.

From a love of plants and nature Firefly Gully Creations have produced beautiful statement pieces using low maintenance, living plants. These decorative settings will certainly brighten up your world with each unique piece handcrafted here on Redlands Coast.

Designed and created on our Redlands Coast, beautiful artisan soap made using the cold processed method, soy wax candles and melts, room mists and reed diffusers.

Locally grown dried flower bouquets, wreaths and confetti from Franklin Homestead.

Pop in and visit Tanya from Frog In A Teacup. She has a passion for simple, sustainable living and can help you reduce your single use plastic with her handmade eco-friendly beeswax wraps.

Children love the freedom to move around messy play stations, using all of their senses while investigating, exploring, creating, observing. Experience all the fun of Gumtreekids messy mud play station and stall.

Merry Go Round Toys offer sustainable, eco friendly quality pre-loved toys in a socially responsible manner. All items are thoroughly quality checked prior to sanitisation (no nasty chemicals EVER) before being photographed and placed on our website and taken to markets.

Good riddance natural insect repellent, lotions, candles and oil bite relief. Natural and made from sustainable sources in recycled or biodegradable packaging. Naturals to you proudly donate a percentage of profit to the Australian Wildlife Conservancy.

Locally make from sustainably sourced timber, Naturally Wood Australia wooden educational resources such as alphabet tracing boards, number counting boards, number trace boards and a wide range of wooden sensory trays are perfect for fine motor skills and creative play.

Come and visit Oz Girl Made with their selection of uniquely made wind chimes and ceramic goods

Come and wonder at Pam's creations. One of a kind handmade jewellery using natural gemstones, Swarovski crystals, lampwork beads, oyster shell and freshwater pearls all created using non allergenic sterling silver and stainless steel fittings.

Crochet cactus/plants, wallhangings, accessories and unique gifts.

Meet Sue and Nikki, a mother daughter team who offer everything eco for the kitchen, bathroom and laundry. Plastic Free Alternatives products are founded on the idea that everything we use daily – things like toothbrushes, lunch boxes and food covers - should do no harm to the planet or our bodies. These must be made from renewable sources and be reusable with a long life or be compostable so that we are not adding to the pollution of our planet.

Ploys accessories are made from punctured pool inflatables, repurposed into practical water resistant products with the aim to reuse and reduce plastic waste of PVC, a product that is not recyclable through any other means.

Pockets by TM hand make upcycled Tote bags in different sizes and for multiple uses including bookmarks, scrunchies, washable coasters, glass pockets, groceries, wrapping and more.

Custom hand painted wearable art, eco friendly cotton and jute totes and terracotta pots by Brisbane based artist Sharma Deanne Design

Meet Kylie and Matt from Smyle Designs. Their mission is to help you keep your outfits cute and the planet happy! They make colourful, eco-friendly jewellery using their own artwork and recycled plastics.

With a desire to slow down and live more mindfully. Jodie uses ethically sourced fibres to crochet a range of bags, reusable face wipes, wash cloths, dish scrubbies and keep cup cozies, You will also find soy candles and essential oil incense sticks, dried flower arrangements in hand turned timber vases made by Jodie's husband at Slow Intentions.

Local potter Suzanne is inspired by the native bushland. Every piece is individually made and even those that come in large families such as the 'Vespires' or the little koalas each have their own unique personality.

Angela from Sweet Bees 'n' Things is passionate about our environment, living sustainably and encouraging others to introduce ecofriendly habits at home. Angela makes beeswax wraps, sleeves and snack pouches, beehive candles, tea lights and lip balms from her home base in Mt Cotton.

Brighten up your home and garden with these colourful, handmade mosaic art pieces, using recycled crockery and other treasures.

Fair trade arts and crafts from sustainable employment projects, mainly woman's empowerment initiatives in fashion and home decor.

The Muddy Chef embraces the switch from screentime to green-time, with outdoor play and mud kitchens being accessible to everyone with a bit of outdoor space, dirt and water. Penny and Emma have created a recipe book for children, but instead of food you'll find unlickable lasagna, mud and seed cupcakes and nature's nachos! Nature play and mud kitchens are fun and a great way for kids to get creative outdoors.

Second hand Scientific reference books.

Unit-Tee sells ethical, sustainable, eco friendly, cruelty free, fair trade apparel with difference.

You will need time to browse the wide range of fair trade and ethically sourced goods including organic T.Shirts, hats, socks, under garments and accessories. Packaged consumables including fairtrade ground coffee, beans, loose leaf tea, organic drinking chocolate and bars including vegan and GF confectionary, native Austalian jams and sauces, herbs and spices. Eco themed books, cook books, terracotta lanterns and planters, stationery and Christmas decorations and a range of personal wellbeing items. Wombat Brain believe the way we shop and select products can make a real difference for people and the planet.
Pop up food vans
Be sure to stop by and say hi to Lesa, Kevin and sometimes the whole family at Anaiis Cafe. With their pretty caravan, stocked full of goodies for your early morning pick me up, or morning tea for the late starters.

100% vegan food including loaded fries, burgers, nachos, arancini, tacos and slushies and soft drinks.

Did you say donuts? Hot, fresh, decadent, GF Vegan donuts that taste delicious!

Schmoffee is a family owned and operated vintage styled mobile coffee trailer with locally roasted Chiasso coffee made and served by Jess and Cohen.
Never miss an Eco Market in 2023/24
Saturday 2 December 2023 (8am to 12 midday)
Saturday 6 April 2024 (8am to 12 midday)
Saturday 1 June 2024 (9am to 2pm) in conjunction with the Environment and Community Fair
Saturday 7 September 2024 (8am to 12 midday)
Saturday 7 December 2024 (8am to 12 midday)
Would you like to become a stallholder?
The December Eco Market sites are now fully booked. To apply to be a stallholder at future markets, please complete and return the Market Stallholder Application and we will contact you when space becomes available.
Please note: Stallholder fees apply and Public Liability Certificate of Currency ($20,000,000) is essential.
If you are an artists or performers and would like to be part of this market or other events offered here at Redlands IndigiScapes Centre please email our Event Coordinator
Stallholders for the Environment and Community Fair will be by invitation after completing Market Stallholder Application