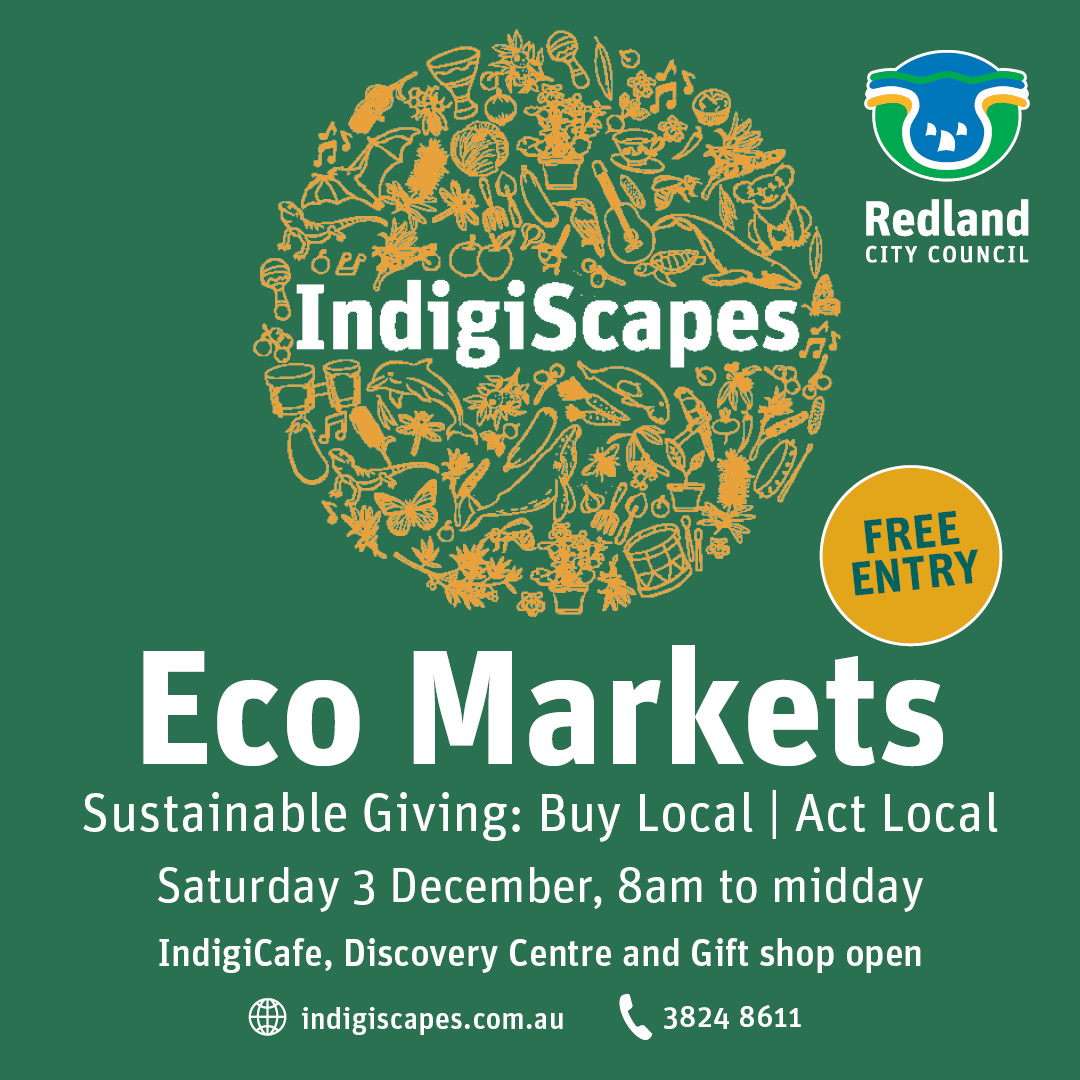 The next Eco Market is Saturday 3 December 2022
8.00am to 12.00 midday, in the native botanic gardens at IndigiScapes
December Eco Market: We hope you can join us for the final Eco Market for the year to support our local small businesses during the Christmas giving season.
Enjoy open-air shopping with local small businesses offering a wide range of eco-friendly products, hand crafted goodies, sustainable giftwares, native plants, fresh produce and so much more.
Grab a coffee or a bite to eat at the Indigi Café or try the fantastic fare from the food vans, while children are engaged in free craft and nature activities, listed below. Spend the rest of the morning relaxing in the shade of the trees, listening to beautiful music from local artists.
There is so much to see and do at our Eco Markets. Don't forget the nursery will be open during the market from 8am to midday for all your native plant needs.
The December Eco Market will feature Sustainable giving - Buy local | Act local
Start the morning enjoying breakfast in the natural surrounds of IndigiScapes Café, then join ecologist, author and gardening enthusiast Kate Wall who will speak about sustainable gardens and gifting from your garden.
Arrive early to enjoy the sounds of nature accompanied by live music on the outdoor stage surrounded by tall Tallowwood trees with Coolnwynpin Creek as a backdrop.
Join Ranger Stacey on the outdoor stage where she will welcome you and introduce you to local cellist David Freisberg, local pop/folk/jazz singer-songwriter Georgie Taylor, followed by talented Queensland Conservatorium student and performer Liam Waldock, who will bring a little Christmas joy to the morning, along with his favourite classics. Then sit back and listen to Minjerribah Island songbird, Paula Boo, as she weaves her songlines through acoustic soul, taking inspiration from her life's experience immersed in the natural beauty of North Stradbroke Island. To round out the stage program Hello Africa's Sunday Ali and dancers will ramp up the energy levels with their interactive, high energy drumming and dance performance, a definate crowd pleaser!
There will be free fun family activities to try
DIY Gift wrap and card making workshop - where you will learn how to make unique and sustainable wrapping paper, gift bags and cards using natural materials to add an individual touch this Christmas. Presented by Bazil Grumble.
Wander the markets and visit the Suitcase Rummage and Rack Sale
Join a weaving circle with Minjerribah weavers Tricia Dobson, Paula Boo, Wanda and our Bushcare weed weavers
Bring your material scraps and learn how to turn them into a rag rug with Barbara Weber
Stop at the playground for children to enjoy energetic outdoor garden play with Sparky Do Dah
Native flora and fauna face painting with your favourite fairy Raine
Children will love getting grubby with Alix from EnviroCom who will show them how to recycle, compost and farm worms, eek!
Find your inner child enjoying Messy Play with the kids at Gumtreekids
Visit the Muddy Chef display to meet the authors of a new book full of recipes for lots of outdoor fun
See our list of local stallholders and organisations offering a range of eco-friendly products and giftware. If you didn't bring a bag, visit Boomerang Bags who will supply you with a handmade bag to fill while enjoying the rewards of starting your Christmas gifting early.
Local fresh produce can be found from Ruby Creek Mushrooms, Redlands Coast Distillery, Fable Ladle, Super Baked and more.
Satisfy healthy appetites with delicious treats from the selection of quality food vans where you will be supporting a local Redlands business.
Who will you find at the market?
Fresh Produce and Food Stalls
Visit talented duo Maxene and Gary Morganson from Fable Ladle. Located on the picturesque Coochiemudlo Island, Maxene and Gary create healthy and wholesome foods – from quality bread including gluten free, seed and nut breads, to a range of bush tucker inspired jams, pickles and chutneys.

Dave and Shahn from Ruby Creek Mushrooms are your local mushroom farmers on the Redlands Coast. They bring gourmet goodness to all with their range of 'Mushroom Exotica and Medicinals'.

Beautiful botanical gin that is craft distilled on the Redlands Coast. Visit Redlands Coast Distillery to try hand-crafted and bottled, small batch gin and ask about the local native botanicals.
Plant based baked goods focusing on showcasing Australian native bush foods with plenty on gluten free and nut free options. Super Baked is a vegan business that focuses closely on elements of sustainability, working with high quality, ethically sourced, Australian native food produce.
Artisan Market Stalls
Beautiful and quirky hand painted rocks individually created by the talented Alan Spears who found a unique way to recycle rubble as original works of art. Alan captures a variety of flora, fauna, local scenery and more.

EcoGlitz® is a sparkly organic cosmetic and child friendly glitter alternative alike. It's plastic-free and cruelty-free: safe for humans and the environment.

Upcycled and recycled fabric headbands that are nonslip and headache free.

Meet Dani from Bow Keep pours her creativity into handcrafted wood hair bows, hair clips earrings, propagation stations, soap plates, trivets and keyrings all made from rescued and reclaimed timbers sourced locally around Brisbane.

Meet Sandy from Busy Bees Hampers & Gifts. She loves bees and the important role they play in our gardens, Sandy has a range of bees products from local honey, beeswax and honey skin products to bee inspired homewares.

Butterly & Bloom Wellness creates small batch herbal and natural skin care including perfumes, herbal bath soaks, beauty and lip balm, face masks and body oil. This nurturing range is created using no fuss, natural products.

Local ceramicist Carys Martin is committed to making beautiful handmade ceramic pieces that are all unique and made with love. Each piece will bring you joy!

Doggy Eco Accessories (collars, leashes, harnesses, toys) made from recycled plastic. Dog coats made from hemp/organic cotton and natural dog treats.

Handmade and eco friendly vegan skincare products by Earth & Scout

From a love of plants and nature Firefly Gully Creations have produced beautiful statement pieces using low maintenance, living plants. These decorative settings will certainly brighten up your world with each unique piece handcrafted here on Redlands Coast.

Pop in and visit Tanya from Frog In A Teacup. She has a passion for simple, sustainable living and can help you reduce your single use plastic with her handmade eco-friendly beeswax wraps.

Children love the freedom to move around these messy play stations, using all of their senses while investigating, exploring, creating, observing. Experience all the fun of Gumtreekids messy mud play

With no to pieces alike you will enjoy exploring these upcycled denim beauties handmade by Juanita from Kool Kids Denim

Good riddance natural insect repellent, lotions, candles and oil bite relief. Natural and made from sustainable sources in recycled or biodegradable packaging. Naturals to you proudly donate a percentage of profit to the Australian Wildlife Conservancy.

Come and wonder at Pam's creations. One of a kind handmade jewellery using natural gemstones, Swarovski crystals, lampwork beads, oyster shell and freshwater pearls all created using non allergenic sterling silver and stainless steel fittings.

Hand dyed, natural fibre woven raffia earrings made by Patsy Brown and hand dyed silk scarves by Marcia Laurie, both Quandamooka traditional owners.

Meet Sue and Nikki, a mother daughter team who offer everything eco for the kitchen, bathroom and laundry. Plastic Free Alternatives products are founded on the idea that everything we use daily – things like toothbrushes, lunch boxes and food covers - should do no harm to the planet or our bodies. These must be made from renewable sources and be reusable with a long life or be compostable so that we are not adding to the pollution of our planet.

Ploys accessories are made from punctured pool inflatables, repurposed into practical water resistant products with the aim to reuse and reduce plastic waste of PVC, a product that is not recyclable through any other means.

Purdy Grateful Designs create beautiful handmade eco-friendly pyramid boxes called BenBens. Inside each BenBen you will find a thought provoking question and a beautiful crystal set with its intention. Each BenBen is made with the environment, mental wellbeing and community in mind.The BenBen stone signifies strength and renewal, and the pyramid shape signifies the generation of energy - pyramids are known to bring enlightenment, create mystical power in intention, and harmonise their environment.

A family owned artisan craft distillery right here on Redlands Coast! Redlands Coast Distillery is the first legal distillery in Redland City and offer a signature dry gin that is full flavoured and refreshing, centred around the bold herbal and piney flavours of juniper, citrus notes from coriander seed and sweet orange peel all enchanced by the sweet flavours of organic liquorice roots.

Custom hand painted wearable art, eco friendly cotton and jute totes and terracotta pots by Brisbane based artist Sharma Deanne Design

With a desire to slow down and live more mindfully. Jodie uses ethically sourced fibres to crochet a range of bags, reusable face wipes, wash cloths, dish scrubbies and keep cup cozies, You will also find soy candles and essential oil incense sticks, dried flower arrangements in hand turned timber vases made by Jodie's husband at Slow Intentions.

Meet Kylie and Matt from Smyle Designs. Their mission is to help you keep your outfits cute and the planet happy! They make colourful, eco-friendly jewellery using their own artwork and recycled plastics.

Soothe those aches and pains away with Spotpack's beautiful Lupin filled heat packs. Christina from Spotpack also creates beautiful handmade beeswax food wraps.

Craft focussed on nature. Botanic art, watercolour cards, fairy gardens, handmade soap presented in recycled art paper and felted soap.

Local potter Suzanne is inspired by the native bushland. Every piece is individually made and even those that come in large families such as the 'Vespires' or the little koalas each have their own unique personality.

Angela from Sweet Bees 'n' Things is passionate about our environment, living sustainably and encouraging others to introduce ecofriendly habits at home. Angela makes beeswax wraps, sleeves and snack pouches, beehive candles, tea lights and lip balms from her home base in Mt Cotton.

Talana Trading support sustainable fair trade hand-painted and hand-printed textiles, featuring quality designs inspired by nature and crafted by talented individuals working alone, or as part of a community structure.

Nature play and mud kitchens are fun and a great way for children to get creative outdoors. The Muddy Chef is a recipe book inspired by mother nature, mud and all the colours of nature.

Time and Tide Art Wear use items such as antique watch and clock mechanisms, old silverware and found items that have been discarded and repurpose them into wearable art. We use sustainable production methods incorporating the use of bio resin and recycled items. We make our own product and don't exploit workers from other countries in the making of our product. Craig and Alison have combined their creative talents to craft unique upcycled jewellery pieces in the Steampunk Genre.

Unit-Tee sells ethical, sustainable, eco friendly, cruelty free, fair trade apparel with difference.

Untamed Gypsy Apothecary - where ceremony intertwines with healing to honour your body, soul and spirit. Visit Untamed Gypsy - Apothecary and Elisha will help find the right herbal smoke cleansing wands infused with crystal energy.

You will need time to browse the wide range of fair trade and ethically sourced goods including organic T.Shirts, hats, socks, under garments and accessories. Packaged consumables including fairtrade ground coffee, beans, loose leaf tea, organic drinking chocolate and bars including vegan and GF confectionary, native Austalian jams and sauces, herbs and spices. Eco themed books, cook books, terracotta lanterns and planters, stationery and Christmas decorations and a range of personal wellbeing items. Wombat Brain believe the way we shop and select products can make a real difference for people and the planet.
Pop Up Food Vans
What better way to start the day then a coffee from Lesa at Anaiis Cafe.

100% vegan food including loaded fries, burgers, nachos, arancini, tacos and slushies and soft drinks.

OMG Donuts make really delicious donuts, dusted in handcrafted bespoke sugars made from fresh fruit and vegetables. Vegan and free from wheat, yeast, gluten, eggs, dairy, nuts, sulphites and preservatives. Be quick - they sell out at every Eco Market!

Schmoffee is a family owned and operated vintage styled mobile coffee trailer with locally roasted Chiasso coffee made and served by Jess and Cohen.

Chips on a stick!

Serving specialty hot and cold coffee, The Vintage Palm Bespoke Van superfood juice, raw clean vegan treats, artisan baked treats and Lindt loaded!
Environment and Community Groups
EnviroCom is a leader within the waste and sustainability industry, helping educate organisations to deliver sustainable outcomes. Their focus at these markets will be recycling, composting, worm farming and plastic avoidance.
Beautiful handmade crafts including hand towels, household items and children's clothes. All proceeds to Cancer Council Queensland

The amazing team of volunteers from Boomerang Bags Redland Cityare talented makers with a passion for sustainable creation. They have a range of products created from unwanted fabirc and textiles. Champions of the circular economy their work keeps textiles out of landfill. You'll find everything from shopping bags to eco cleaning cloths and beautifully covered books, eco-on-the-go cutlery sets and more.

Your local community garden bring potted plants to purchase, herbs and vegetable seedlings, plus sustainable and fun gardening ideas.

Sustainable Scouting. Sustainable Communities is what your local Capalaba Scout Group is all about. Come and say hello, find out more about getting involved and help the group in their fundraising efforts.

Local bee club committed to promoting safe beekeeping practices for beekeepers as well as promoting the role of bees to pollinate. Enjoy the taste of delicious honey from a Redlands apriary from Bayside Beekeepers Association.

Since its formation in 1987, Wildlife Queensland Bayside Branch has been working to protect the vulnerable flora and fauna of our region and educate community members about threatened species and conservation needs.
Engage with Council Teams
Environmental education
Waste education
Mark your diary so you never miss an Eco Market in 2023:
Saturday 1 April 2023
Saturday 3 June 2023 (Environment and Community Fair to celebrate World Environment Day
Saturday 2 September 2023
Saturday 2 December 2023
Would you like to become a stallholder?
We are currently at capacity for stallholders. To apply to be a stallholder, please complete and return the Market Stallholder Application and we will contact you when space becomes available.
Please note: Stallholder fees apply and Public Liability Certificate of Currency is essential.
If you are an artists or performers and would like to be part of this market or other events offered here at Redlands IndigiScapes Centre please email our Event Coordinator