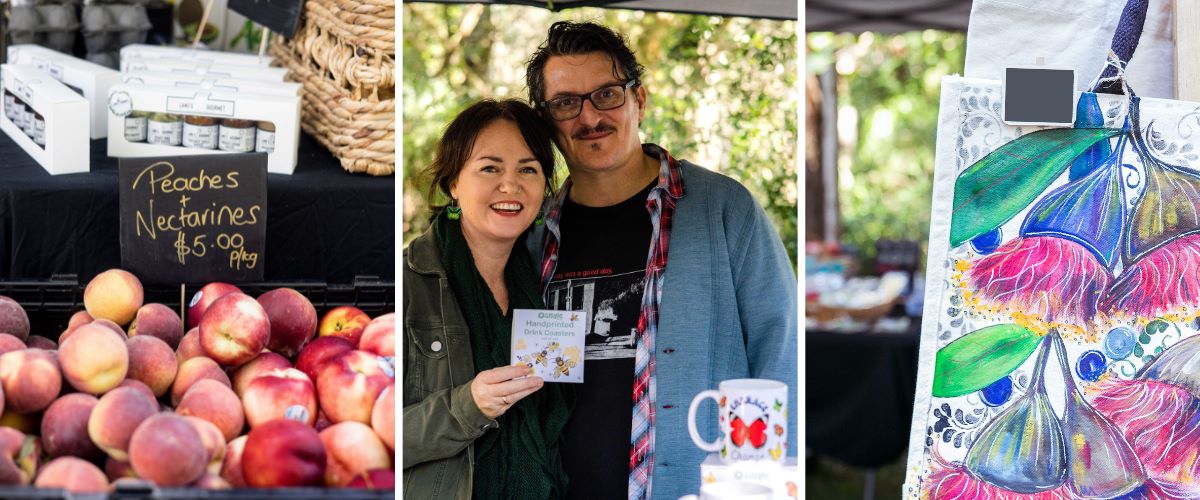 Save the date for Redland City Council's next Eco Market
Saturday 2 December 2023, from 8:00am to 12:00pm
Enjoy open-air eco friendly markets in the beautiful native botanic garden surrounds at IndigiScapes!
Spend the morning wandering through the Botanic Gardens market lane and explore range of unique stalls, sustainable products and fresh produce available from our local and creative market community.
Grab a coffee, or a bite to eat, at the IndigiCafe; or try the fantastic fare from the food vans, while children are engaged in free craft and nature activities.
Visit the popular suitcase rummage and rack sale for a preloved bargain.
Relax in the shade of trees, listening to beautiful live and local music on the outdoor stage.
There is so much to see and do at our Eco Markets. Don't forget the Native Nursery will be open during the market from 8:00am to midday for all your native plant needs.
Dogs at IndigiScapes Eco Market
We love meeting your furry friends at IndigiScapes. However, we kindly request that dogs do not accompany their owners into the Botanic Gardens at any time, including our Eco Market events.
You are welcome to enjoy a leisurely walk on our designated walking tracks, with your dog on a lead.
Parking
Event parking is accessible via the Native Nursery entry at 15 Runnymede Road, or Lyndon Road and Korowal Street where you can take a short stroll through the bush track to the native botanic gardens.
Who will you find at the markets?
Environment and Community Organisations | Eco Exhibitors
Fresh Artisan Produce
Artisan market stalls
Pop up food vans
Never miss an Eco Market in 2023/24
Saturday 2 December 2023 (8am to 12 midday)
Saturday 6 April 2024 (8am to 12 midday)
Saturday 1 June 2024 (9am to 2pm) in conjunction with the Environment and Community Fair
Saturday 7 September 2024 (8am to 12 midday)
Saturday 7 December 2024 (8am to 12 midday)
Would you like to become a stallholder?
The December Eco Market sites are now fully booked. To apply to be a stallholder at future markets, please complete and return the Market Stallholder Application and we will contact you when space becomes available.
Please note: Stallholder fees apply and Public Liability Certificate of Currency ($20,000,000) is essential.
If you are an artists or performers and would like to be part of this market or other events offered here at Redlands IndigiScapes Centre please email our Event Coordinator
Stallholders for the Environment and Community Fair will be by invitation after completing Market Stallholder Application